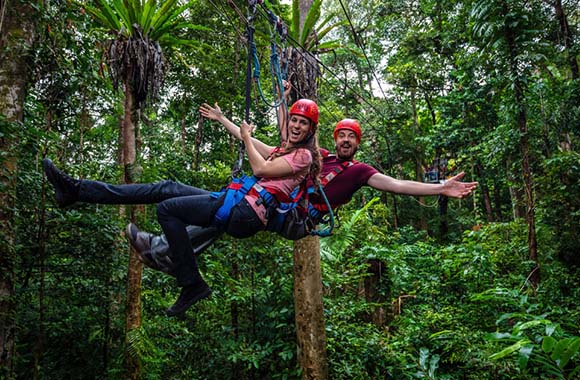 02 Jul

Jungle Surfing feature
'Just lie back and think of England'. It's not often you hear that while tied up and suspended by ropes in a rainforest canopy. Calm down, kids – it's not that kind of story.
2 hours' drive north of Port Douglas on the picturesque Great Barrier Reef Drive is Cape Tribulation in the Daintree Rainforest. Thanks to Jungle Surfing Canopy Tours you now have a unique way to explore it – take to the treetops on a guided zipline and tree platform tour, enjoying spectacular views of the rainforest and the Great Barrier Reef. 
But let's start from the beginning. It's no secret that the 90s were full of life-changing movies (we're looking at you Pulp Fiction ('It's a Royale With Cheese') and Speed ('I feeeel the neeeed…'); however it was the seminal Sean Connery classic, Medicine Man that seeded the idea of a jungle zipline into the mind of Jungle Surfing founder, Stephen Walsh. From the humble beginnings of his zipline dream to the very first jungle surfing warrior adventurer in 2003, Jungle Surfing now runs up to 12 times a day, attracting more than 20 000 visitors each year to see the rainforest from upside down, suspended flight, 20 metres up in the trees.
The journey starts with a human hamster wheel, powered by the people! This very nifty wheel winches jungle surfers from the ground up to the first platform. You'll then glide through the canopy with 360 degrees views over the treetops and out to the Great Barrier Reef. The guided zipline and platform tour consists of five platforms and six ziplines taking in all levels of the rainforest canopy. Expert guides accompany you every step of the way controlling all equipment and flight so there's no experience or tuition necessary. And throughout the tour, the guides tell the story of the world's oldest rainforest.
While Jungle Surfing is family-friendly, it also allows for some daredevil antics like hanging upside down. Fancy yourself a speed demon? The final stretch to the ground features side-by-side racing ziplines with speeds over 45km/h – game on!
Jungle Surfing tours last about two hours, and there are up to twelve departures daily. With harnesses to suit (fearless) kids aged 3 and up to adults weighing 120kg, you can bring the littlies AND bring the grandparents – Jungle Surfing is the adventure activity for all ages.
If you are staying in Cape Tribulation or Daintree area overnight then you must experience a guided night walk through the rainforest with Jungle Adventures. The rainforest comes alive after dark as critters and slithery friends come out to play! Armed with a flashlight and very knowledgeable guide you'll venture out into the darkness to experience the nocturnal wildlife that is endemic to the region. The walks follow natural trails and run nightly at 7.30pm.
See you soon up in the trees!
Jungle Surfing Canopy Tours
141 Camelot Cl,
Cape Tribulation
QLD 4873
Visit Jungle Surfing Tours